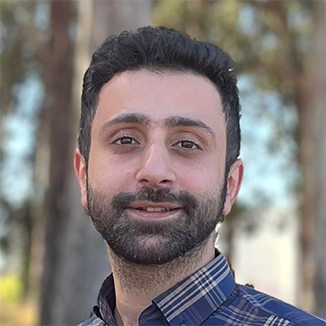 Dr. Sina Naeimi, Postdoctoral Scholar,
Software Developer
The SimCenter Development Team relies on post-doctoral scholars to enhance and develop SimCenter software tools. Their domain expertise and research experience provide valuable insight into natural hazards research workflows that the Center supports. In this article, we feature Dr. Sina Naeimi, Postdoctoral Scholar, Software Developer.
Sina is supporting the Regional Resilience Determination tool, R2D, and documenting its development process. He is also enhancing R2D capabilities by integrating a Restoration of Water after an Event Tool (REWET).
Dr. Naeimi completed his Ph.D. in the Civil Infrastructure program in the Department of Civil and Environmental Engineering at University of Delaware, during which he worked on developing a general restoration framework for damaged water distribution systems. Sina earned his master's degree in the Earthquake Engineering program at K.N. Toosi University of Technology, Tehran, Iran, and Bachelor of Civil Engineering from University of Guilan, Rasht, Iran, before joining University of Delaware. Sina's main research focus is on natural hazard risk management and regional and infrastructure risk management, and the application of numerical models.