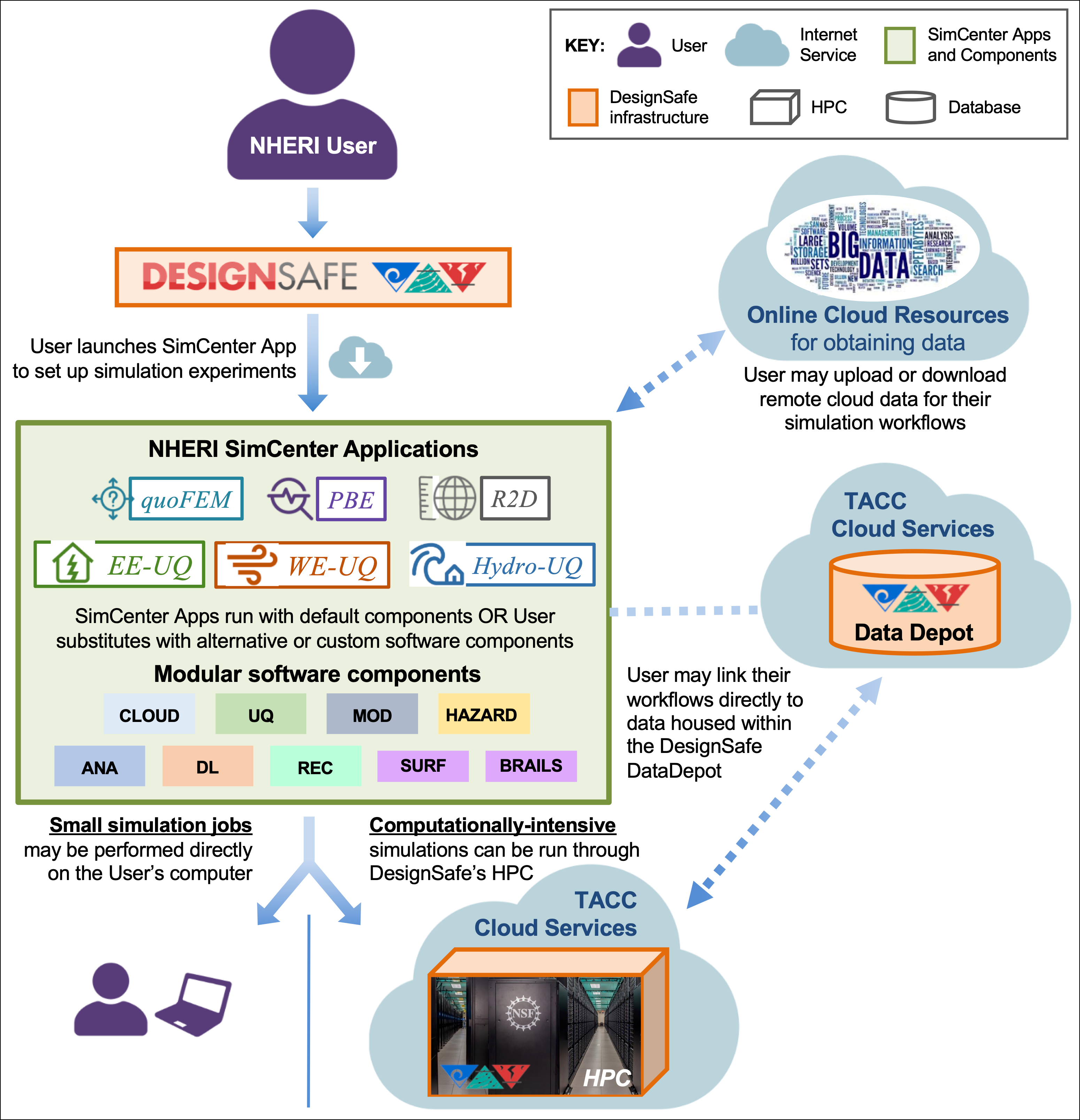 The National Science Foundation (NSF) has renewed the Natural Hazards Engineering Research Infrastructure (NHERI) Computational Modeling and Simulation Center (SimCenter). The renewal award (CMMI 2131111) provides $12.75M over the next 4 years to develop and promote advanced modeling and simulation technologies for natural hazards engineering (NHE) researchers and practitioners to understand and quantify the effects of earthquakes, hurricanes, tsunamis, and other natural hazards on buildings, lifelines, and communities.
Natural hazards pose a grave risk to human life and account for tens to hundreds of billions of dollars in damage each year in the US alone; the NHERI network is a collaboration among 12 NSF awards that support the research needs within natural hazards engineering. The SimCenter's role is to create computational tools and complementary education programs that empower researchers to innovate new strategies for mitigating risk and promoting community resilience to natural hazards.
The SimCenter is headquartered at UC Berkeley and led by principal investigator (PI) Sanjay Govindjee (UC Berkeley) and co-PI Gregory G. Deierlein (Stanford University), who serve as co-directors. The leadership team is rounded out by co-PIs Laura Lowes (University of Washington), Ahsan Kareem (University of Notre Dame), and Satish Rao (UC Berkeley). The full SimCenter team includes faculty and postdoctoral domain experts, modelers, and computational specialists from around the country with the collaborative mission to develop technologies that will enable NHE researchers and practitioners to engage with policy makers to inform decision making on planning, design, and deployment of mitigation strategies to build quantifiably more resilient communities.
To date, the SimCenter has published six user-facing software applications with an emphasis on uncertainty quantification, high-performance computing capability, and direct applications to current research needs, including CFD, turbulence inflow, performance-based engineering, hydrodynamic loading, earthquake engineering, and regional simulation capabilities that incorporate examples derived from a collection of testbeds. SimCenter tools have created broadly integrative capabilities for natural hazards engineers that greatly exceed those of prior efforts. A complementary education and outreach program with educational applications, webinars, workshops, and software training sessions have informed and educated its engaged community.

The renewal of the SimCenter will build upon these accomplishments with integrative tools for hazard modelers, efforts for enhancing detailed modeling, expansion of regional capabilities to include new hazards and interfaces with urban planning and modeling tools. At the heart of these developments will be the availability of the latest uncertainty quantification methods. A continued focus on education will expand on previous activities with modules to support classroom instruction and hackathon events. These are offered in addition to support and training for researchers to adapt SimCenter products to the particular need of their research. New community events will include Simulation Symposia, a researcher residency program, and community-based working groups to guide software development priorities and promote active engagement.
"The danger to life and property and the immense impact that natural hazards have on so many people is difficult to underestimate. The SimCenter team is very pleased that NSF has chosen to reinvest in our work so that we can continue to actively contribute to the development of a more robust and resilient built environment." -- PI Sanjay Govindjee (UC Berkeley).
An October webinar to share additional details on renewal activities and how to engage with the SimCenter will be announced soon. Subscribe to the SimCenter newsletter to stay informed about this and other upcoming events.